On this page, you find pedagogical guidance materials – produced by the "Who is in the classroom" working group during the Teaching to Transgress Toolbox programme.
The Pronoun Round (video long version)
A conversation between MC Coble, Nika Dahlberg-Melin and Eva Weinmayr that took place in Jan 2020 to prepare for the first TTTT workshop in Brussels. You can watch the conversation, send it to your students or your colleagues, or use clips from this conversation to raise awareness in your class.
Index of topics
0:25

your experience with pronoun rounds
---
2:30

language is something that we form
---
5:22

that's why the pronoun round is crucial now
---
7:30

not having to do all the legwork
---
8:14

what's the "pass" in a pronoun round
---
9.17

there are many moments in a pronoun round
---
11.24

every time someone stands up for you, there is a little crack in the structure
---
13.00

name tags
---
15:39

a proper introduction to the pronoun round is key
---
16.50

the importance of correct gendering
---
18:33

then I am turning it on myself
---
19.30

reduced to someone who has a mental health issue
---
20.13

if I as a teacher misgender someone
---
21:27

how can I not assume gender
---
22.35

just flip it and move on
---
24:00

we can practice it
---
26:40

things are not always as they seem / learning how to unlearn
---
28:00

the freedom of speech argument is really worn out
---
30:00

it's a question of access
---
30:30

we had a discussion about gender toilets
---
31:00

a small shift that changes the whole thinking
---
32:32

names
---
34:40

sometimes I feel I have two jobs
---
36:13

as teachers, we need to take responsibility
---
38:35

the classroom is a space where we want to learn
---
40.00

the snap (quite privileged to not have this bend all the time)
---
43:30

that's not stuff I have always known or felt
---
45: 53

does the passage from "she to he" perhaps just confirm the binary?
---
46:55

what does non-binary mean?
---
47:47

it's not the binary that the problem, it's the patriarchal expectations connected to it
---
49:00

it expands our world, our thinking, and possibilities
---
51:35

feeling safe to try things out in the classroom
---
52:33

… and allies
---
53:03

this is fundamental groundwork in educational settings
The Pronoun Go-Round Guide in English, French, Swedish (handout)
A pronoun go-round is an activity in which members of a group tell each other their preferred pronouns. This short guide, provides questions to consider and best-practice examples to help you plan one.
Download the PDF of this guide.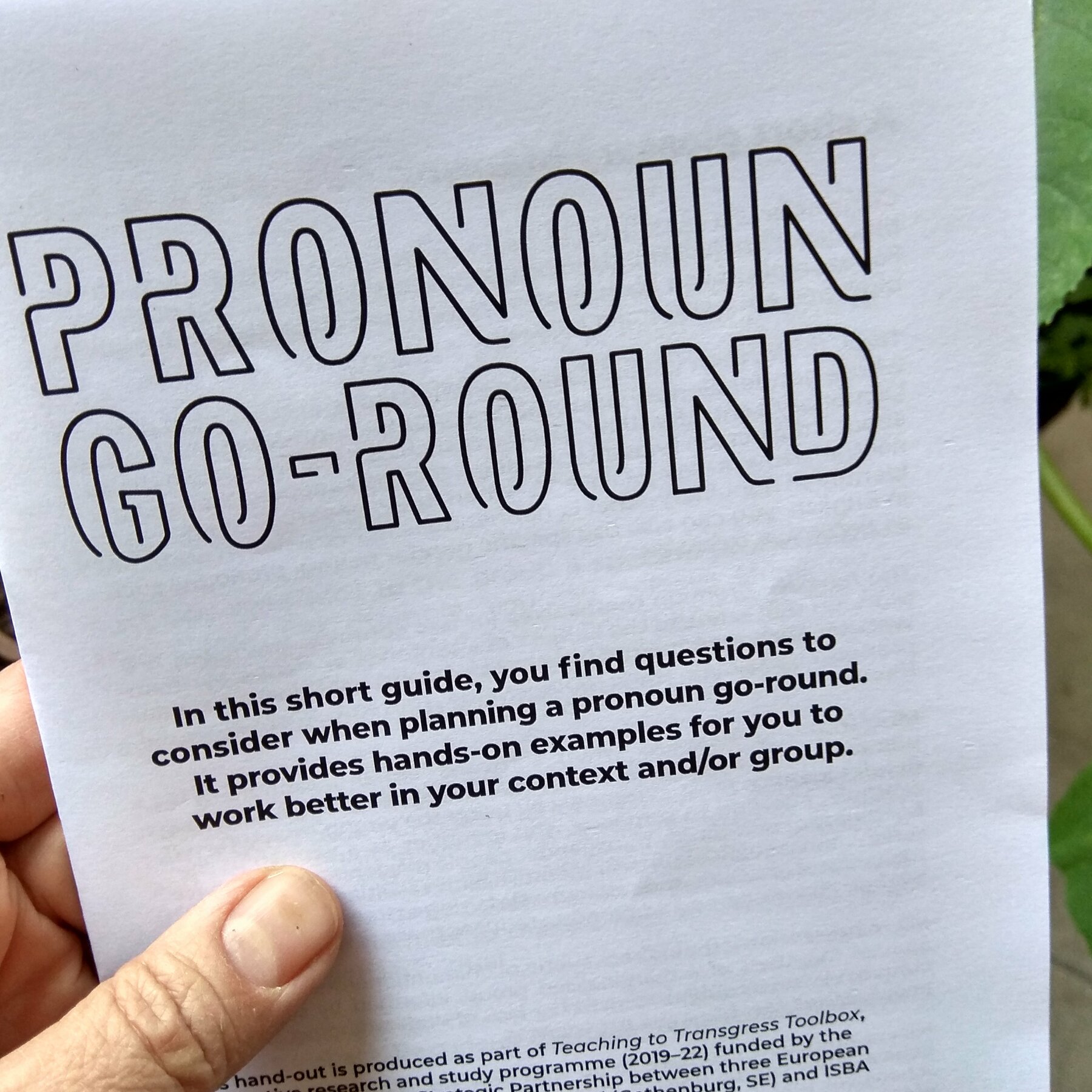 ---
Print it out as an A5-size zine by using A4 size paper, ticking the option "booklet" in your print menu.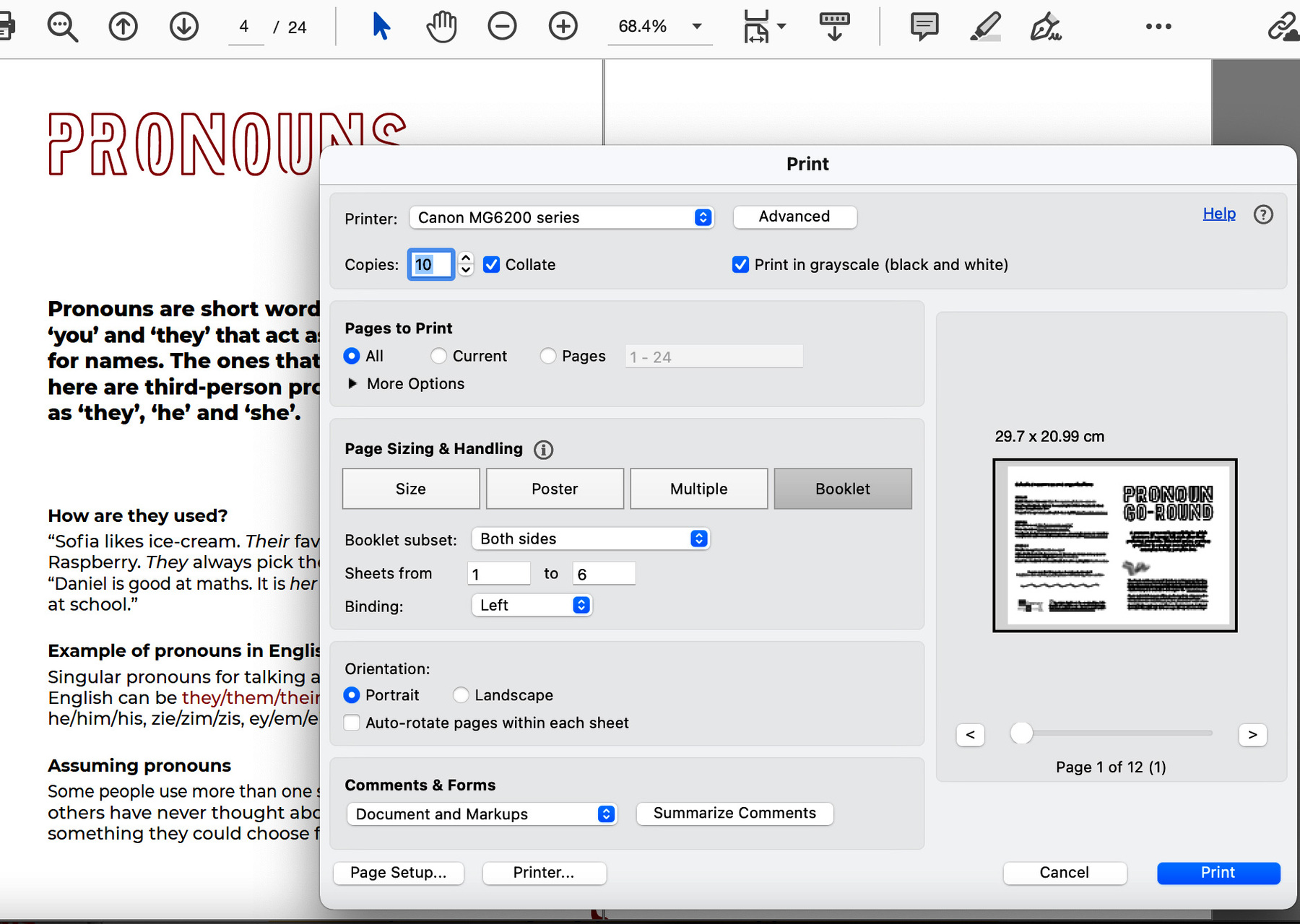 Fold the pages in the middle. If you have a stapler at hand, or even thread and needle, you can stick the folded A4 sheets together to form a A5 zine that fits into your bag.