The facilitating team at erg wanted to offer a space to Joëlle Sambi Nzeba, who, alongside other guests, attended the erg seminar, After Empire in 2017.
We would like to share with the other partners how we try to integrate post-colonial questions into the structure of the school thanks to such invitations.
After having attended the preview of her documentary (in production) Pinkshasa diaspora, at Pianofabriek, on the Congolese LGBTQI diaspora, we hoped to discover in these life experiences the possibility to question the notions of Safe(r) Space and Brave(r) Space, notions that were finally questioned elsewhere . In the end, Joëlle chose to orient her workshop around her slam practice.
Joëlle Sambi Nzeba's work is based around writing and slam. She is training as a journalist in Brussels and develops artistic practices like written or spoken poetry and filmmaking.
Joëlle had carte blanche to lead an afternoon exchange with the participants to help us think through and develop useful tools for exchange and conversation.
Practicing a writing workshop
By way of introduction for this workshop, Joëlle Sambi Nzeba initiated three slams, the transcripts of which can be found below :
---
Joëlle invited the participants to write a personal text as a way to introduce themselves for the introductory week. Some participants who were more comfortable with public speaking then took the floor to perform their texts.
Earlier in the week, the participants and the facilitators of the project had the opportunity to briefly introduce themselves and give their reasons for participating in this project. Joëlle's proposal opened the space for an in-depth presentation, using poetry and slam, rhythm, etc. to describe oneself. Poetry and rhythm give the opportunity to develop profound opinions and thoughts that are often difficult to express through the standard limits of conversation.
The artistic and activist practice of Joëlle Sambi
Excerpts from the film Pinkshasa diaspora were screened and Joëlle was able to describe the challenges she faced filming such a documentary, as well as her feminist LGBTQIA+ activism.
Voir sur Vimeo. (MDP: Pinkshasadiaspora2018)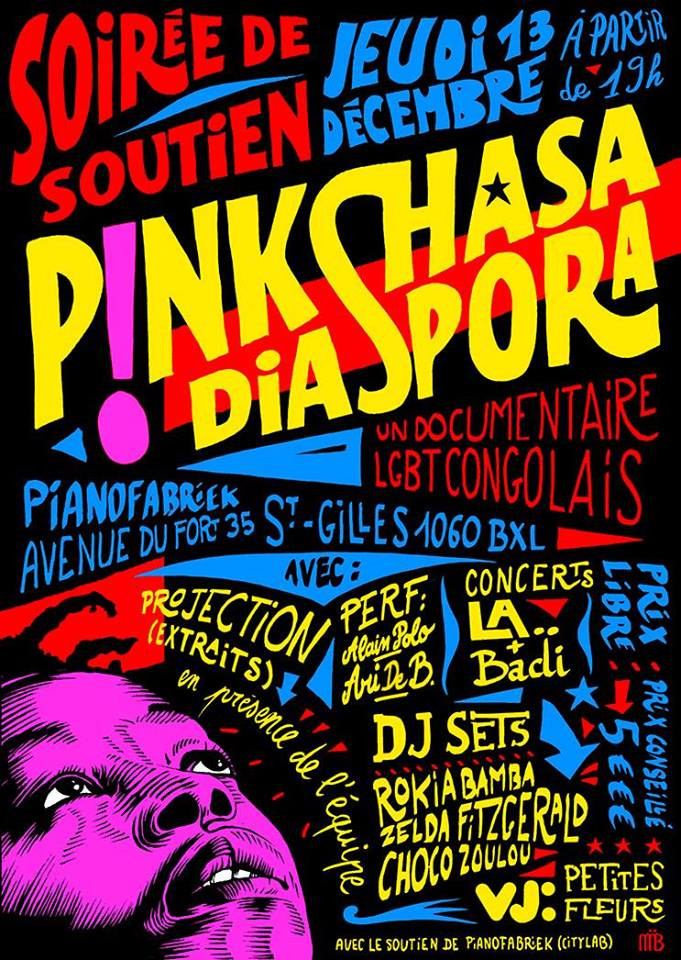 Outputs
This workshop and another around text mash-ups by Felixe°Tiphaine Kazi-Tani, resulted in the following days in a series of texts, which were interpreted by the participants during the evening organised at De Markten to the music of ILL-SYL (Sylvia Iweanya) and hosted by Joëlle Sambi.
TTTT participants were struck by Joëlle first piece: Entre le marteau et l'enclume (between a rock and a hard place.)
Slams Transcript
NA LINGI YO
---
Na lingi yo. I love you.

"Don't ever open your heart," the old woman told me. "Don't ever open it before you tear the knives, the blades, the needles, the locks, the syringes, the hammers and the nails, the staples, the pins, the scissors and the pliers, the axes, the clippers. Don't ever open it if you don't want to know from love neither the happiness nor the pain that go with it. Don't ever open it if you don't want to lose the slightest piece of your soul, your life, your self. Let the others love you, admire them, appreciate them, at most invite them at your table, in your bed, but let them love you. Don't love them. Don't open it for them. It's much better this way!!"

Was the old woman right?

There are things you don't inherit, in spite of all our efforts. There are things that give the finger to genetics, to heritage, to education, to norms. Things like the survival instinct, for instance, things like the capacity to not screw up! Those things are foreign to me. They are nowhere to be found in my genetic code. So I love, I love because I'm forbidden to love. I open my heart and I love, I love these beings who — sacrilege — are said to be like me. Are we clones? Humanoids whose defective mechanisms turned us into fags?

What if the old woman was right? Seems like measure and prudence have skipped more than one generation. Because I love anyway, I love, I love beyond conventions, I love to the point of not making sense anymore, of losing its essence, its rules and its reason.
"Don't ever open your heart," the old woman told me, but all I get is chaos: a kind of earthquake that brings tears to my eyes, a lonely Sunday afternoon. A jumble of questions that slowly heats your brain just like lava lapping at mountain slopes. There is no coming back. Your ideals like petrified, carbonized bodies.

I love you. Na lingi Yo.
---
HOW MANY
---
What's the boiling temperature inside?
What kind of equations rate our values?
Mathematics is hopeless for me – counting, calculating, I'm helpless, I don't know?
So how many? How many, tell me…
How many bodies are needed? How many piles? How many legs and how many arms? How many ashes in the wind? To what fates shall we renounce? How many untraced paths? How many ambitions cut short, passions destroyed, and lives disrupted? How many renouncements? How many births? How many children shall we raise? How many blind-spot love stories? How many regrets for our old days? How many graves to discover? How many corpses in our closets, in our heads and in our TV's?

How many extinguished bodies? How many embraced hearts?
How many men to satisfy? What if everyone cleaned their backyard first…

Mathematics are hopeless for me, counting, calculating, I'm helpless, I don't know
So how many… How many, tell me?

How many bombs do we need to plant? How many us' and you's and us' and everyone?
When is it enough?
How many fires started? What's the degree when anger turns into lava, and lava into saliva, and saliva into fire that runs and destroys kilometers and miles of the all-too ordinary injustices? How many "no's" do we need to say? When is "no" enough?
How many less than nothing, better than yours? At what height does the watchtower ceases to be dangerous?

Mathematics is hopeless for me, counting, calculating, I'm helpless, I don't know
so how many… How many, tell me?

How many deaths in the Mediterranean? How many ex-plosed families, how many ex-pelled? How many razed houses? Erected towers? Rigged lifeboats, chartered planes?
How many screams in the night?
How many cockroach-workers, abused children, raped women, discarded old folks, scorned poor, exploited immigrants? How many irons to brand us? How many pounds to weigh on our conscience?
How many law-approved taser guns? How many threats to make us crawl? How many gags and cushions to choke us? How many truncheons to beat us? How many graves do we have to dig? How many scars and swastikas? How many tears, how many losses, how much black, how much white for our clothes?

How many bills do we have to gather? How many bills for our pensions? How much cash, bread, dough, yeah, how much is enough? When do we have enough?
How many leaves still have to fall? How many books must be written? And what are the pages I shall burn? How many slams shall I recite? What are the chains I have to yank? What's the face of a good, improved immigrant?
---
HAVE A GUESS
---
Here it comes, here it comes, the drums are kicking
Brass rustling and boots stomping
This is the Great march of Autumn
Here it comes, here it comes
This is the measure, the giant feast, the awful trance
They took their shields out
Even polished them for the occasion
Our friends…
That's it, that's it
The birds keep quiet
While they have a go at the Arabs, the Gypsies, the Negroes
Proudly, they announce
Stately, they spew their nonsense
But still
But still… //
Shut up //
Shut up women, prole scum, tranny thug, fag, homo, islamo-boho, poor lefties!
Shut up!
This is the great misery-rights auction
The bile, the feces between their fangs,
The bile, the feces of their words
Everything is packed, overly tidy
Like the soldiers' Weston's buckles and battledresses
Like the ice cube in their Jameson
Everything is packed, overly tidy
That's it, that's it
Only crows are cawing.
They announce the end of peace.
The end of peace.

But then guess who's watching you straight in the eye.
Guess who's suddenly watching you in the queue
Pretending to be a friend.
Guess who's finding themselves wanting to be like you,
Near you, unexpectedly, suddenly a brother.
Guess who's raising their fist, their truncheon and their ballot box to hit you slightly harder
As you are rising yours
To split sides and rip assholes
To wreck the efforts of those who keep holding you down.
Down to earth, a simple speck of dust,
Far from the court of these men. But who wants to become a man?

Have a guess.
Guess who's fucking you, pissing you off, locking you up, covering you with garbage?
Who's proposing you, announcing you, defining you, telling you everything you need to be or become?
Who has so little, so little, so little respect for you…
Guess who's glaring at you and ratting on you, looking down on you, subjecting you
Who's saying you are nothing, saying you are not.
Not enough, sufficiently sufficient. Too much, too little. Have a guess.
Who's taking you and discarding you?
Who's treading on you, wiping their feet, erasing their shit and pointing at your anger?
Your legitimate rage.
Who's spitting on you and points at your explosive hell?
Who's accusing you? Who's abusing you?
Who's holding you, catching you, supporting you? So little, so little…
Who's abstaining when it's convenient?
Who's cutting your throat when you're the inconvenience?
What's gone with you…?
Who's drinking from your misery?
Who's thinking you're not a sister enough to be a friend?
Who's telling you you're a sellout, not an ally?
Not strong enough, no solid enough?
But… have a guess…
Guess who's cold like you?
Road menders of blue demise.
Who, just like you, has a cold heart?
Cemetery sculpture at the bottom of the sea.
Fateful ode inside planes.
Who, just like you, is already rotting?
Death for a life that won't be.
Endlessly empty seat
Of a nation that will never get born.

So guess my anger x 2
My rage, however quenched or subdued.
Play the attorney or the usher.
Count each brother, each sister that has drowned.
And if our names are a whirlwind for
Each ill-fed life,
Each mistreated life
We shall be the black night of your absent guilt.
We shall be the shared blooming,
The loneliness and the torment of your rotting hearts.

Guess the idiocy, the lightning, the inhuman.
The blood that runs and the brimming furrows.
Guess the hatred that carries the ablutions
And the prayers of hypocrites and
The programs of the impostor-Hippocrates /
Guess the river that drowns the insults, the banishments
And the crowd that traces, neatly and exactly, the squeaky-clean collective memory.
And the crowd that traces, neatly and exactly, the squeaky-clean collective memory.

Who's proscribing? Who's defining? Who's judging?
That's it, that's it
The birds keep quiet
Only crows are cawing
Yet, who's dying at the end (of the film)?
Have a guess.